2012 Cabernet Franc Takes Top Honors!
Posted on Aug 19th, 2014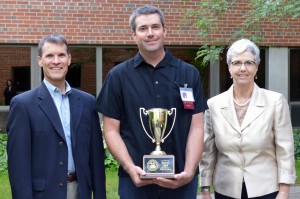 We are honored to announce that the 2012 Cabernet Franc has received Best of
Class and Double Gold in the dry red category at 2014 Michigan Wine
Competition. The 2012 growing season was exceptional, producing ripe dark fruit
flavors of cherry and plum. Sixteen months of oak aging produced a delicious
creamy hint of espresso in this rich full bodied wine. This is the second
consecutive year the Cabernet Franc has taken Double Gold and Best of Class
at the Michigan Wine Competition.