Summer Vacation Sangria
Posted on Jun 10th, 2016
We've been celebrating the return of summer at the tasting room! This season, we're putting a whole new spin on Summer Vacation–our wine that is! Try this sweet and refreshing sangria on the patio this summer or on the beach!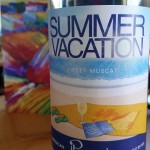 Summer Vacation Sangria
2 bottles Summer Vacation Wine
1 2L bottle Lemon Lime Soda
2 oranges, sliced
1 lime, sliced
1 quart strawberries, sliced
Combine all ingredients and serve chilled!